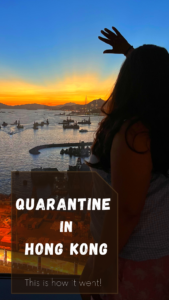 Imagine you come from a wonderful holiday, and instead of going home, you have to go to a self-paid Hotel. The extended holiday/workation/staycation you may think! But in reality, It's far away from that.
Well hello, because you are in Quarantine. This also means you cannot step out of your Hotel room. Food will be delivered and kept outside your room. There will be a series of tests that you have to undertake, and the thing that you would miss the most is the fresh air.
Well, this is what we have experienced in Hong Kong after returning from the motherland India.
Watch the whole experience here!
Hong Kong still has very strict covid protocols. All arriving passengers have to do self-paid three days of quarantine in a designated hotel. The quarantine period has been recently reduced from seven days (which we had to do). Post the hotel quarantine everyone must take four days of home quarantine and also take daily covid tests.
Watch the documents and procedure required video here.
http://blogfulloftraveltales.com/?p=314