It doesn't often happen that your friends agree to join you on a trip – that too on an international one! So, when my girlfriends agreed, I had to come up with a place that has everything that one can expect from a holiday. Since the time we had was less and the excitement and expectations were high – I could not think of any other place than Thailand for our girls trip for multiple reasons.
First being I had been to Thailand a couple of times and second being that no number of visits is enough to explore this beautiful country, there is always something more to explore. We had other options also but with only three days in hand to spend, Thailand was our best bet considering the flight duration, visa procedure and expenses. The next thing was to zero in on a city that I haven't been to, and hence we chose Krabi.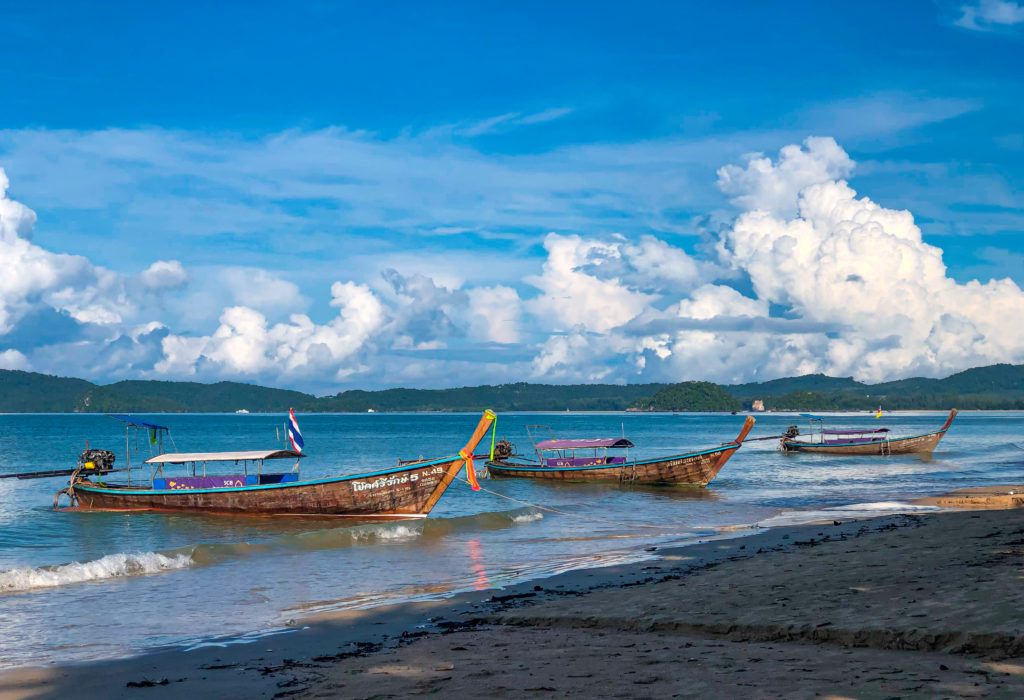 We were flying in from three different countries – three girls from India, one from Malaysia and I was flying from Hongkong. Since we (HK and Malaysia) couldn't get flights when everyone else were landing, we flew a day earlier.
After reaching Krabi International Airport in the evening, we bought the prepaid sim cards and took a sharing van to go to the hotel which was in Ao Nang.
We then settled in Sea Seeker Krabi Resort for one night. In the evening, we stepped out to explore a nearby market and later chilled in the hotel.
Costs:
Airport transfer in a shared Van – 150 baht per person
Prepaid Sim cards – 120 baht per card (Airport has the best price of sim cards)
Hotel Sea Seeker twin sharing room cost – 900 baht per person
DAY 1
RAILAY BEACH – AO NANG BEACH
We both woke up early and went to Ao Nang beach, which was 10-min walking distance from the resort. The morning vibe at the beach was amazing. Cotton candy clouds hung on blue skies were hinting rains. The smell of sand was precious. We strolled at the beach for some time and then headed for breakfast. We came across this fantastic place called The Coffee Club. We ordered our preferred things and ate it while looking at the beach and swaying coconut trees.
Breakfast cost – 850 baht total (little pricier than the other places but the was really worth it)
After the Breakfast, We both checked into Peace Laguna Resort which was booked for the next three days for all of us. The resort was huge and amazing surrounded by lush mountains and a small water body in the middle.
Hotel Peace Laguna cost for 3 days – 3,000 baht per person inclusive of breakfast.
Our friends arrived in the afternoon from India and after resting for a bit – we headed out to Railay beach.
Railay beach is around a rocky mountain and takes only 15 mins on a long tail boat from Ao Nang beach. This place is famous for mountain climbing, kayaking and also has resorts to stay in. We then had lunch at one of the restaurants and explored Railay a little. We hopped on to the last ferry that leaves at 6.00 pm and reached Ao Nang beach.
Long tail boat to and fro – 200 baht per person
While my friends headed to sort the next day's tour, I watched the most spectacular sunset of my life. I truly had lost the count of the colours I witnessed in the sky. I still get goosebumps thinking of that sunset.
As the morning clouds predicted, it started to rain. We quickly took shelter at Noori India cafe and ordered chai and pakoras. Later, we again went to an Indian joint, Madras cafe for dinner. My friends are vegetarian and have other inhibitions too so couldn't try anything else. Krabi has many options for vegetarians and a lot of Indian restaurants so you won't have any difficultly finding food suited to your taste buds!
One meal cost for five people could range – 300 baht approx and up. It also depends on what you order.
DAY 2
Four-Island-Tour, Krabi night market
After an early breakfast, we hopped on to a shared open van that dropped us to Ao Nang pier. We were given brief for the day and then we boarded the speedboat to start our four-island-tour.
Four island tour cost 1,000 baht per person including lunch and snorkelling gear.
First stop was Bamboo Island. It had white sand and surreal shades of water. We were given an hour here. We walked around the beach and played in the water for a bit.
Then we were shown the viking cave and monkey island and were given some time for swimming and snorkelling.
After that, we reached our last spot of the day, which was Phi Phi island. We had lunch at one of the designated places booked for touring people. (There is a special section for vegetarian food in the hall)
After lunch, we walked around the streets of Phi Phi and spent some time on the beach.
We then headed back and reached the hotel by 5. While my friends rested, I quickly headed out to witness another sunset at my favourite spot – Ao nang beach – And witnessed another mindboggling sunset.
Sunsets in Thailand never disappoint.
In the evening, we hired an auto for 500 baht to go to Krabi night market (happens only on Friday, Saturday and Sunday). Market had a great shopping scene and many food stalls. We bought some souvenirs for home and quirky magnets.
We then came back and explored the RCA entertainment street, which has a lot of restaurants and party places. We strolled, sat, drank and danced. We then had dinner and also booked a private car for the next and the last whole day.
DAY 3
ATV – EMERALD POOL – HOT SPRINGS
The third day also started early. The best thing about taking morning tours is – you start early and finish early too.
Our car picked us up at at 8:30 am to our first stop, which was ATV bike ride. After Dubai, it was my second time riding the ATV all by myself, and for my friends, it was their first time. We were given instructions and safety equipment. We then drove the ATV all around and had an amazing time going up and down the hills, maneuvering and dodging the puddles.
The Emerald pool was our second spot; this place is in the middle of a lush forest with thousands of clear mini pools, streams of spring water flowing around and a lot of tropical trees and plants, which gives it a magical feel.
Emerald pool is a natural turquoise blue pond with fresh water supplied from natural streams coming down from the hills. The incredibly beautiful turquoise blue colour is caused by the high limestone and mineral content of the lake. We swam around and had a fun time.
The water is not very deep so non-swimmers can also enjoy the pool. This place is equipped with proper bathrooms and changing rooms.
After that, we had lunch and headed to our last stop – Hot springs.
The water here comes from thermal springs, originating deep underground in volcanic chambers. We sat inside the springs. The warm water of hot springs calms the mind and body and we all felt super relaxed.
Hiring a private car proved to be a smart choice as we could enjoy the places at our own pace.
After coming back, I watched the last sunset of the trip at Ao Nang beach, and then we headed for a foot massage (cost 350 baht per person ) which is a must if you are in Thailand. After that, we partied at Thailandia bar and restaurant (This place particularly has a great vibe, amazing ambience and live music).
For dinner, Somehow I convinced my friends to have Thai curry and sticky mango rice which is another famous thing to eat in Thailand.
We spent some time in the market afterwards to shop souvenirs, beach slippers and matching anklets as a memory of the most memorable trip with the girl gang. And before heading back to the hotel, we also booked a car for the next day for the airport drop. (We paid 500 baht for two people for a private car)
After reaching the hotel, we stayed up and partied until it was time to part ways. And that was the end of our three days amazing trip which created memories of a lifetime.
To watch the whole experience of the trip here, Click here